06/23/2014 8:16 PM
-
On June 19,, 2014, the WISE Cleveland chapter hit the streets of downtown Cleveland for a walking tour of some of the unique venues the city has to offer. The tour began with an introduction to some of Cleveland State's facilities, the Student Center, (located at 21st and Euclid) and The Galleries at CSU, (located near Playhouse Square), offering a look at new and historically renovated spaces in the city. The WISE group was treated to stunning views of the city's skyline at the Student Center's ballroom and caught a glimpse of Cleveland's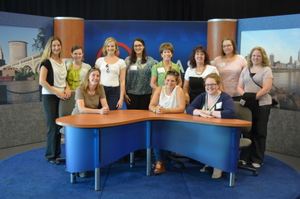 historic charm in the galleries back space, which includes an ornate grand staircase since the building was previously a large, upscale jewelry store.
The next stop on the tour allowed the group to explore the expansive space at IdeaCenter at Playhouse Square. This renovated National Register landmark building encompasses the 90,000 square Idea Center suite and 124,000 square feet of leased office space. While the group wasn't able to visit every space, the tour highlighted options for all sizes and types of events. Our tour guide, Jordan Davis, Special Events Coordinator, showcased areas able to accommodate cocktail receptions, award dinners, and small and large conferences. He also gave the group a peek at the television and radio recording studios.
Our third stop included a visit to Pickwick and Frolic. Director of Group Sales, Courtney Fidler, guided our group around the upstairs of the facility, (where a rehearsal dinner was about to take place), and then we made our way downstairs to the Cabaret where actors were doing a read through of a new script. The Cabaret can seat about 110 people and is great for company events, (see photos from WISE member Laura Gorman's company event). They also host a burlesque show most Fridays. Beyond the Cabaret is Cleveland's only Champagne Bar and Kevin's Martini Bar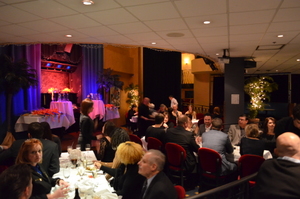 boasting bright red décor and lit up bar tops. The last space we entered was Hilarities 4th Street Theater where the crew was gearing up for the evening show. Courtney mentioned that companies can rent this space out as well for either group shows or just a unique space to have daytime meetings.
To complete this evening out on the town, the group's final stop was a happy hour at House of Blues Cleveland's Foundation Room. The group enjoyed appetizers and cocktails in the glamorous rock star space that has become a Cleveland classic.
To learn more about these venues, please visit the links below.
http://www.csuohio.edu/services/conferenceservices/
http://www.csuohio.edu/class/art-gallery/art-gallery
http://ideacenteratplayhousesquare.org/ic/index/
http://www.pickwickandfrolic.com/