04/30/2014 4:35 PM
-
On April 16, 2014, the WISE Cleveland chapter had an in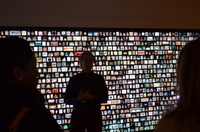 -depth tour of Gallery One, the new interactive space at the Cleveland Museum of Art. The gallery features the largest multi-touch microtile screen in the United States at 40 feet, which displays images of over 3,500 objects from the museum's world-renowned permanent collection and allows you to shape your own tours of the museum. ArtLens is the museum's new app for iPad where you can enjoy over nine hours of additional multimedia content, including audio tour segments, videos, and additional contextual information by syncing your own or renting one from the museum. An interactive map of the museum in ArtLens uses indoor triangulation-location technology to help guide your way and find works of art with additional content nearby.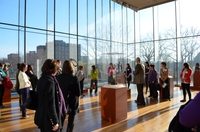 The WISE group was also quickly guided through some of the other galleries of the museum by our docent, Dick Ott. Dick was great at giving fun facts about each piece he discussed such as the difference between art from northern and southern India and stories about some of the artists, (one had to have his wife's face in every piece he did). Following the tour, our group had dinner from Provenance café, the new restaurant from Doug Katz, while enjoying the vastness of the newly opened atrium.
Special thanks to WISE Programming Committee member Lynde Vespoli for spearheading this event!