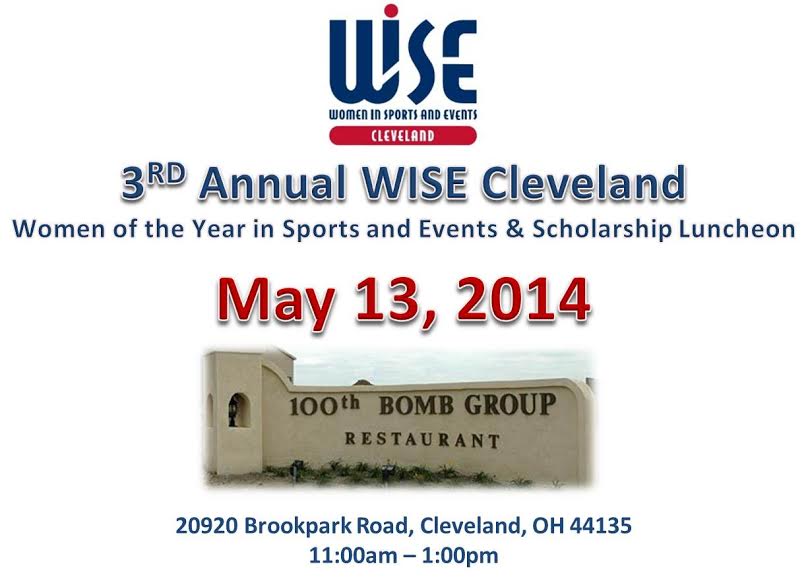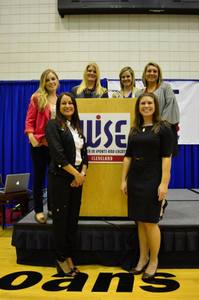 Event Background: The WISE Cleveland Women of the Year in Sports and Events & Scholarship Luncheon celebrates the professional achievements of women working within the sports and event management fields. This year we will be honoring two women, one in the field of sports and another in the field of event management as well as awarding the WISE Cleveland Scholarship to a high school and college female student for their academic achievement, commitment and towards a future career in the sports or event management fields.
Pricing
Student/Admin: $20.00
Member: $35.00
Non-Member: $45.00
Table: $275.00
Sponsorship: $500.00
If you are interested in becoming a partner of the WISE Cleveland Women of the Year in Sports and Events & Scholarship Luncheon, please contact Michelle Qualls at michelle.qualls@foxsports.net
2014 WISE Cleveland Women of the Year Award Recipients
WISE Cleveland Woman of the Year - Events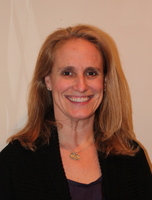 Meredith Camp, Meredith Camp Eveents, LLC
Meredith Camp is President of Meredith Camp Events, LLC an event management company in Cleveland, Ohio. Meredith founded the company in January, 2004 to provide strategic event management and consulting to help clients achieve their objectives and maximize parternerships. with a solid business sense and two decades of extensive experience, Meredith has established her company as one of the leading event consulting firms in Northeast Ohio. Her client's appreciate her personalized, relationship-focused and customer-oriented approach, and her ability to manage small details while focusing on the larger objectives. The company's client list includes, among others: The Cleveland Clinic, Greater Cleveland Sports Commission (Women's Final Four, International Children's Games, National Senior Games), Maltz Museum of Jewish Heritage, The Gathering Place, Nature Center at shaker Lakes, Hathaway Brown School, Pro Football Hall of Fame, flying Horse Fams, Downtown cleveland alliance and University Hospitals.
Prior to launching her company, Meredith worked in the National Football League for eight years, with the Tampa Bay Buccaneers and the Cleveland Browns. In addition to day to day duties managing gameday operations, special events, stadium events and event marketing communications, Meredith played an intergral role in the start up and operation of both team's brand-new state-of-the-art stadiums, including producing elaborate opening celebrations. Meredith began her career at the PGI Group, producing and managing large-scale special events for the NBA, ATP Tour and the NCAA.
meredith has served ont he Board of The Centers for Families and Children and Jewish Big Brothers and big sisters, as well as serving in several positions for the shaker Schools Parent Organizations. She earned a dual degree from Brown University in Organizatioinal Behavior and Management and Business Economics. Meredith, her husband and two children reside in Shaker Heights, Ohio.
WISE Cleveland Woman of the Year - Sports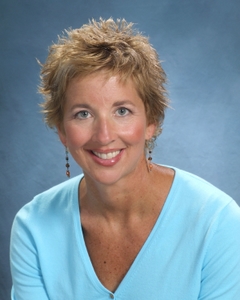 Susan Polakoff Shaw, Chief Media Maven Polakoff Communications
Susan Polakoff Shaw is a leading expert in press operations and media relations who has worked 13 Olympic Games as well as other events around the world in a career that spans 30 years.

The International Olympic Committee chose Susan to join its press operations staff for the 2014, 2012, 2010, 2008 and 2006 Olympic Games---the only American woman on staff. In addition to the Olympics, she has managed venue press operations at events around the world including the New York City Marathon, the Pan American Games and World Championships for figure skating, speedskating, gymnastics and swimming. She has managed publicity and press operations for dozens of domestic multi-sport events, including several U.S. Olympic Trials, national championships and U.S. Olympic Festivals.

At the 2012 Super Bowl in Indianapolis, she assisted the President & CEO of the local host committee with special media projects. In addition, Susan has assisted the White House with press operations during two visits to Cleveland by President Obama.
At the 2012 New York City Marathon she managed the ever-changing press operations plan resulting from Hurricane Sandy. At the 2010 marathon, she organized a press conference featuring Chilean miner Edison ("The Runner") Peña, for 200 international media in less than 48 hours.

In May 2007, with just one week to go before the start of the U.S. Anti-Doping Agency (USADA) v. Floyd Landis hearing, Susan was hired to manage press operations for the nine-day arbitration at Pepperdine University. This was the first time a USADA hearing was open to the media. In just a few days, she implemented an accreditation system, created a media policy and organized a media workroom for more than 50 international journalists.
Throughout her career in sports administration, she has managed public relations and press operations for national governing bodies such as USA Swimming, USA Gymnastics, U.S. Speedskating, USA Cycling, National Archery Association, USA Table Tennis and U.S. Water Polo.
In 1995, she was Chief of Research for ESPN's inaugural Extreme Games in Newport, Rhode Island. For the 1994 Goodwill Games, she spent five weeks in St. Petersburg, Russia, where she managed press operations for a variety of sports and venues. In addition to working for ESPN on several international events, she served as research room manger for NBC at the 1996 Olympics.
Susan worked as publicist for the 1990 Goodwill Games in Seattle, Washington. While at TBS, she was promoted to Public Relations Manager for Turner Sports and coordinated publicity efforts for TNT during the 1990 World Cup from several cities in Italy.
Susan began her career in Indiana, working at Indiana Sports Corporation as Public Relations Director and still maintains a professional relationship with the organization. In addition, she worked for the Shelbyville (Ind.) News as general assignment reporter and chief photographer. She won two United Press International (UPI) photo awards and served as a stringer for Scripps-Howard News Service and UPI. She received her B.A. in journalism and political science from Indiana University.

She served on the board of directors of Kids In Flight ™ (www.kidsinflight.org). She was board of trustees member of the Cleveland chapter of WISE and a member of the Community Leadership Board of the American Diabetes Association. She has donated her services to several charitable organizations including the Animal Protective League, Second Hand Mutts and the Northeast Ohio chapter of the Juvenile Diabetes Research Foundation. In 2006, she served as co-chair of the JDRF Dream Gala that raised more than $500,000 for diabetes research.
She lives with her husband, Bud Shaw, a sports columnist for the Cleveland Plain Dealer. The couple share an unhealthy obsession over their two rescue dogs, Ike and Indy
Event Emcee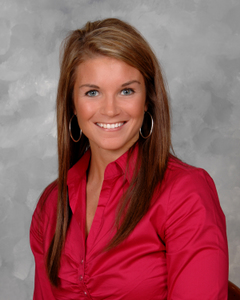 Allie Clifton
An Ohio native, Clifton joined Fox Sports Ohio with over 10 years' experience playing competitive basketball and three years' experience as a sideline reporter and sports reporter. Following an accomplished high school basketball career, Clifton continued her basketball success at The University of Toledo. There, she was a 4-year letter winner and 3-time co-captain, leading her team to the Mid-American Conference (MAC) West Division title in 2010.
With a bachelor's degree in Sports Analysis and Communication and a master's in Communications, Clifton has served as sideline reporter for the Toledo Mud Hens of minor league baseball's AAA International League, sports feature reporter for 13 ABC Action News in Toledo, and color analyst and sideline reporter for high school and collegiate basketball, volleyball, and track and field on Buckeye Cable Sports Net in Toledo.
Scholarship Information
At the luncheon, WISE Cleveland will also be awarding a high school and college student studyiing to enter the field of event management or sports with the WISE Cleveland Scholarship.
The deadline to apply for the scholarship is quickly approaching. Please click here to apply for the scholarship. All entries must be postmarked by April 1, 2014.